Company Profile
Message from the Director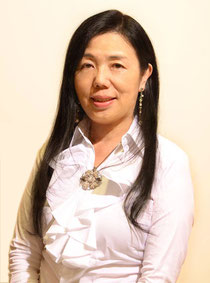 September 2013
Rika Nakanishi, Representative Director
Al Connection Products, Inc.
We're truly grateful for the mountains of support, encouragement, good will, and cooperation that we have received over the 22 years we have been doing business.
And September of this year will mark our 19th period since becoming incorporated.
It is the relationships with companies that are too incredible to put into words and the many wonderful individuals we have had the honor of knowing that has allowed us to do business for so long.

The "Al" in our company name stands for "alle," which means "everything" in German, and "Connection" refers to relationships.
We chose that name to reflect our passion for being devoted to "all relationships."

There is a Japanese saying that goes, "enduring generates strength." And just like that saying, we are so happy that everyone's input has allowed us to continue being a part of society.
We will continue to work hard with gratitude and respect in our hearts towards all of the people we have had relationships with in the past and everyone we will meet in the future to repay everyone for their kindness.

It is our goal to engage in healthy company management that consistently rises to challenges and dives into innovation. In this endeavor, we use "gathering," "communicating," "linking," and "fulfilling" dreams as our keywords. Moreover, providing services that contribute to the world and continuing to be a company that has captured the hearts of our customers is our greatest joy in this management process.

In order to continually receive enthusiastic feedback from our customers that our participation helped them succeed in their projects, we consistently rethink and streamline even the most commonplace of tasks and devote ourselves to helping all of our customers expand under the philosophy of, "tomorrow will be even more successful than yesterday, and the day after that will be even better."
It's just like a restaurant owner feeling the happiest when a customer says, "this is delicious," or an architectural design office being overjoyed to hear a customer report that, "this is easy to use."

What's more, our business isn't bound to any specific "goal" limitations.
Every day is a fresh start.
Regarding our obligation towards an aging society with a falling birth rate, we feel that our mission is to constantly search out new potential and contribute to society with the spirit of rising to all new challenges.
Without something important to protect, humans become apathetic, unmotivated, and vulnerable.
When people have the strength to protect something important, they are able to use their brain power passionately and live life full of courage.

Using IT technology and information effectively, we strive daily to achieve a better future by providing the best and most universal services.

Overview
Company Name:

Al Connection Products, inc.

Inception:

September 1, 1991

Incorporation:

February 26, 1996

Financial institutions:

The Kamimachi Branch and Aoyama Branch of UFJ Bank Limited and the Kamimachi Branch of the Sumitomo Mitsui Banking Corporation

Location:

6-6-7-8F Tanimachi, Chuo-ku, Osaka City 542-0012
Tel. +81-6-6766-2350, Fax. +81-6-6766-2351 

Capital:

10,000,000 yen
Products and Services
Shopping website planning, design, operation, and support
Mobile/website planning, design, operation, and support
Internet video design, operation, and support 
Customer development support and direct mail sending and related services
Internet advertisement management, website analysis support, and tool sales
*Al Connection Products, Inc. is a Google Certified Partner and certified Jimdo Expert
Organizational affiliations and activities
Director at NPO Japan HALAL Development Promotion
Chairperson of the Public Relations Committee in the Business Women's Club of The Osaka Chamber of Commerce and Industry
ODCC (Osaka Digital Contents Industry Promotion Council) Seminar Project Division Meeting Leader
Director at DMW Kansai (Direct Marketing Workshop Kansai)
NPO Smart Kanko Suishin Kiko (Smart Tourism Promotion Organization)
Director at Casablanca Executive
History
Sept. 1991

Launched Planning Office and Key West

Nov. 1992

Started event production services and survey services

March 1996

Started website related planning, design, and operation services

Aug. 2004

Started EC mobile telephone website planning, design, and operation related services

Nov. 2011

Started Web Strategy "Ru" Series services